Getting to Know Meditation
Mind is the hub of every move. The true happiness, life can shelter under its roof. And the Mind only can do the proof.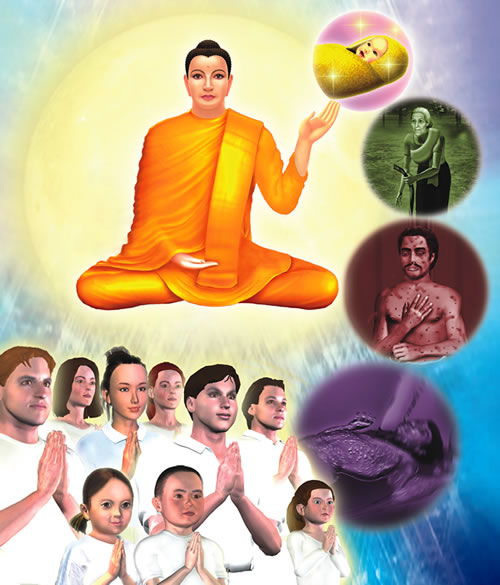 Life is always in action along the venue of rise and fall, love and hatred, despair, hopeless or hopeful. Some moves would drain our energy, but some moves give. We cannot say that life is only happiness or being covered with pain. The truth of life is fluctuating, swinging, swaying, betraying, or unexpectedly up and down. And mostly it is up to the external factor.
And be noted that the external factor normally weaves the web of inter-twining action to our internal. It is the mind. Then the mind that is the hub of everything is always in the situation unstable, tiring and restless.
It is proved that life is a two-way traffic i.e. external and internal, outside and inside. Mostly we cannot control the external, the outside factors or situations, but the mind we may, because it belongs to us. It is our inside. It is ours.
Luckily, Buddhist Philosophy has taught us to control and conduct the mind. All aim to lead the living way of life to the track of real peace and happiness. Absolutely, yes, it is "Meditation."
To meditate, firstly is to learn how to still the mind on the point that is best balanced. It is the station of non-defile. Secondly is how to lead the mind to go deeper along the track of real peace. It is the Middle Way. The one and only way that leads to the real awakening and finally to the true enlightenment.
The Middle Way is the way that connects nibbana, heaven and earth as one.
Meditation in action will be in sudden at the gateway or at the first touch of the station of stillness, and, then, certainly, regularly, step by step all along the Middle Way. It is up to the mind that practices well or not.
The Middle Way is the real living way. It is the only existing principle of Buddhism of The Lord Buddha.
And be noted that real awakening or true enlightenment will be possible only by Dhammakaya as Lord Buddha said, "He who sees the Dhammakaya, is he who gets in touch with me, Thatagata." (Thatagata is the name Lord Buddha called himself.)
Meditation in action will be touchable as soon as you touch or feel the station of stillness and it will be sharper and sharper in every inch you insert your mind deeper in The Middle Way.